How does it work?
Our systems collect data from AIS receivers placed around seas, canals, and ports. The data is immediately sent to our servers which then distribute that data in real-time to our customers via the Internet.
What is AIS?
The Automatic Identification System (AIS) is required on passenger ships, tankers, and ships with a gross tonnage of 300+. They're all equipped with an AIS transponder which regularly transmits live data about its ship's position, name, size, speed, course, destination, etc. More...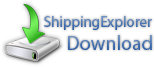 Get Free Access!
You are already receiving AIS data (e.g. ShipPlotter) or are willing to setup our receiver in your region? Get your personal key to use ShippingExplorer for FREE. Contact us for further information.
Try the Demo
Everyone interested can try our software with a few restrictions and a delay of up to 72 hours. Just download our program and use "DEMO" as your key.
Get a Test-Key
You can get your personal test-key. It's limited for 5 days of use but provides you all features for testing purposes. Just contact us with your request.



Welcome


ShippingExplorer is a cost-effective software to track vessels with live data. It displays all vessels in range at their exact position on your favorite map. Additional information, photos, ship tracking history, etc. about vessels can be viewed right away in our client software.
The new version also allows you to use filters on the map (such as "All vessels heading to Rotterdam", "All cargo ships", "All German vessels" and much more).
Also a new Alert Zone system was introduced. You draw a zone on the map and once the specified ship enters that zone you'll be alerted via e-mail or SMS on your cell phone.
Covered Areas
...many more to come.
Reports of ports:
Ice maps: